Father Alban

Fr. Alban Waggener was born in 1951 and raised in Kansas City, Missouri. While attending the University of Missouri as a philosophy major, he met Nancy Maute. They were married in May 1973 after being confirmed in the Episcopal Church.       Fr. Alban attended the Virginia Theological Seminary from 1973-1977, taking a year to serve the Bishop of Alaska in Point Hope, an Inupiat village north of the Arctic Circle from September 1975 to May 1976, having spent a month in January 1975 in Fort Yukon, serving under the future Bishop of North Dakota, Fr. Andrew Fairfield+.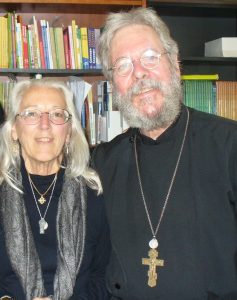 His first assignment upon graduation with his M.Div degree was in West Memphis, Arkansas. In 1979, he returned to the Washington, DC area to serve as curate under Fr. James Daughtry+ at St. Paul's K Street, one of the foremost Anglo-Catholic parishes in ECUSA, where he had done field work while in seminary.
During this time he studied Orthodox Christianity with Bishop Basil Rodzianko+ and was active in establishing the Fellowship of St. Alban and St. Sergius, an Anglican-Orthodox fellowship in the DC area, as well as serving as a founding board member of the Washington Coalition for the Homeless.
In 1985, the Waggeners moved with their four sons to Ashland, Wisconsin to serve at St. Andrew's Episcopal Church. After two years, Fr. Alban renounced his priesthood in the Episcopal Church. In 1989, he began serving in one of the traditional Anglican jurisdictions of those who had left ECUSA. After serving parishes in Cheyenne, Wyoming; Fort Collins, Colorado; Redding, California and Birmingham, Alabama, the Waggeners moved to Lynchburg in 2005 (he having been consecrated Bishop in 1999). Fr. Alban left the Anglican Continuum in 2006, and he, his wife Nancy and other members of Christ Church (Anglican) were Baptized or Chrismated as Orthodox on Pentecost 2006. He was ordained to the Orthodox Priesthood in September 2006 and elevated to Archpriest in 2019.
Deacon Thomas
Fr Alban is assisted in the services and ministry of Holy Trinity by Deacon Thomas Weaver and Subdeacons Daniel Marchant, Justin (Reade) Keeler, and Peter (Rob) Pyle.